Jury members of the 5th Championship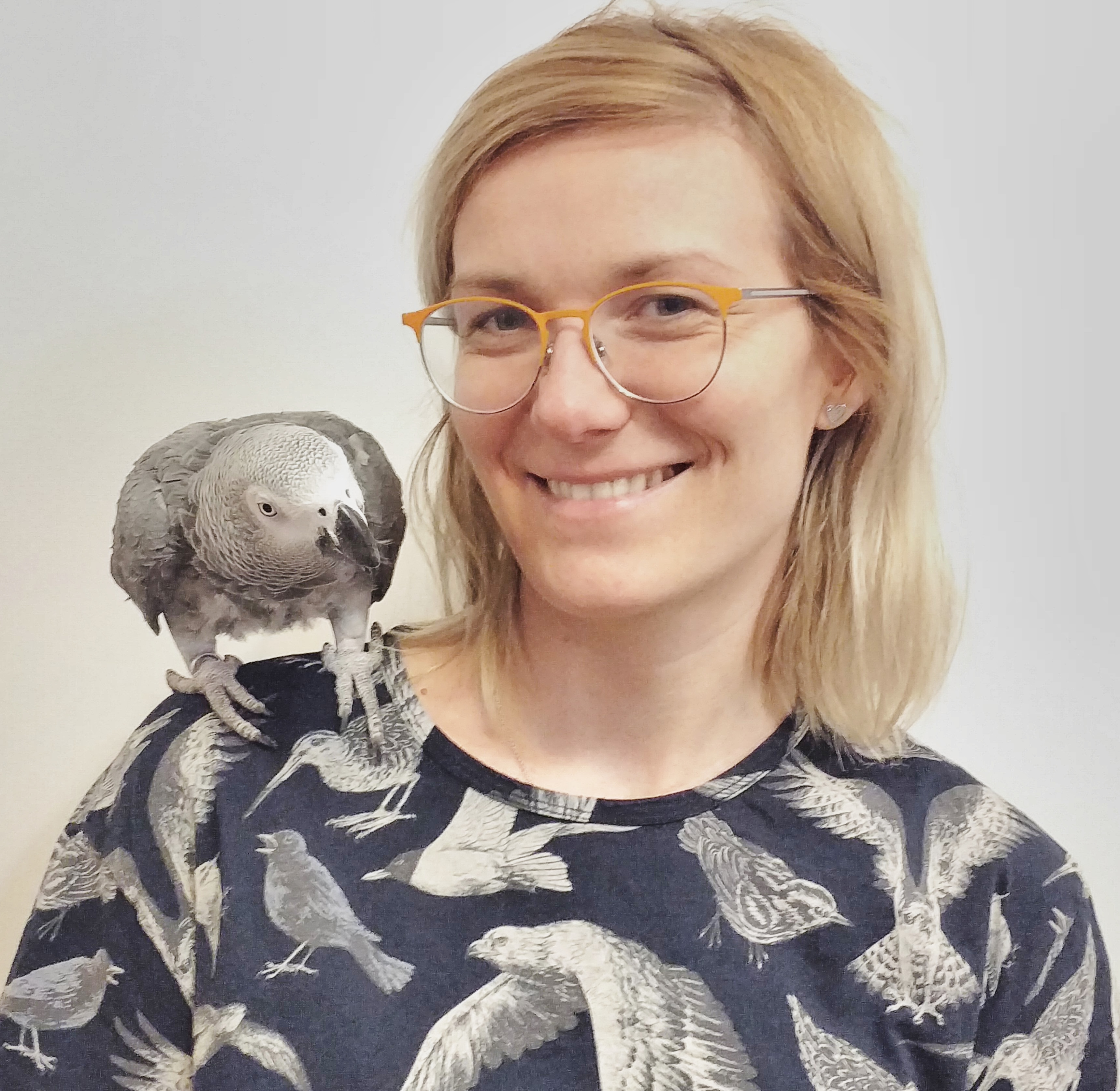 Marta Kamińska
A Romanist and linguist by profession, a bird lover since childhood, and the owner of Zara the African parrot for eight years, who was elected the Chatterbox of the Year 2017/18 in our competition. Possession of the African Grey completely dragged her into the mysterious bird world, observing their behavior and teaching Zara to talk.
The passion for birds led Marta to learn how to fly a paraglider. She develops her wing to get to know nature from a bird's eye perspective.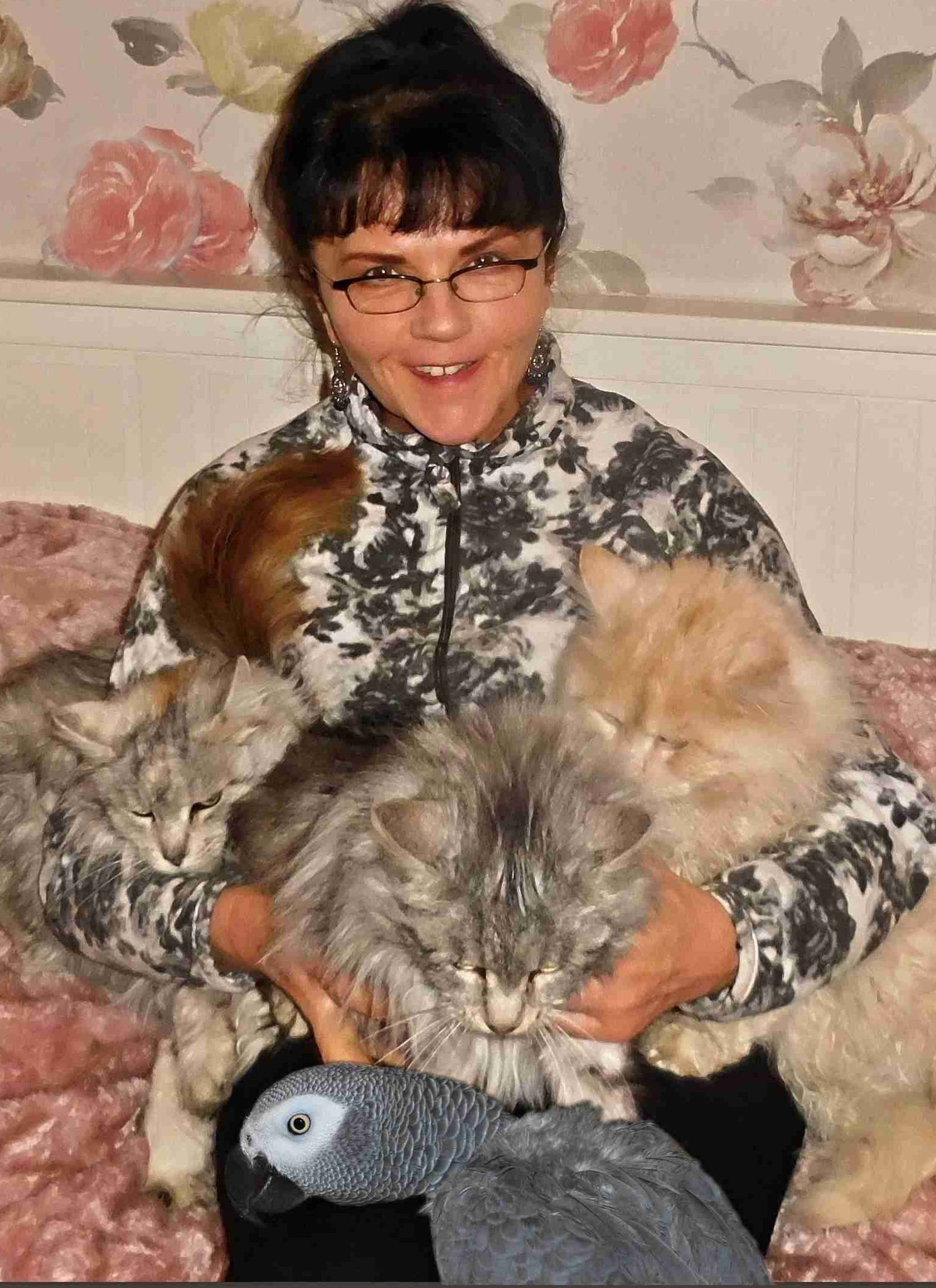 Bozena Tarasewicz
Economist by education, passionate nature enthusiast and herbalist, who collects herbs and processes them into intractions, syrups, creams, ointments, oils, vinegars soaps and many, many more. Nature is the only Power before which she kneels. She feels best in the garden where she easily recognises all species of decorative plants and weeds, and can talk about them for hours. Propagator of healthy life style and natural therapy. She is happy with every "convert", especially when she notices huge impact of her methods on the persons' health.
Owner of Adrian the African Grey Parrot - the winner of the title of Vice Champion of Poland in the "Parrot Chat" of 2015/2016. At her home she talks not only to Adrian but also to her dogs and cats. She loves all live creatures. She always had a rich zoo at home. And recently, apart from Adrian, she has four Maine Coons and a moggy cat named Puma, whom Adrian often mentions in his competition videos. She thinks that she would be able to subdue the most dangerous of animals, and her unfulfilled dream for years remains to befriend a lion.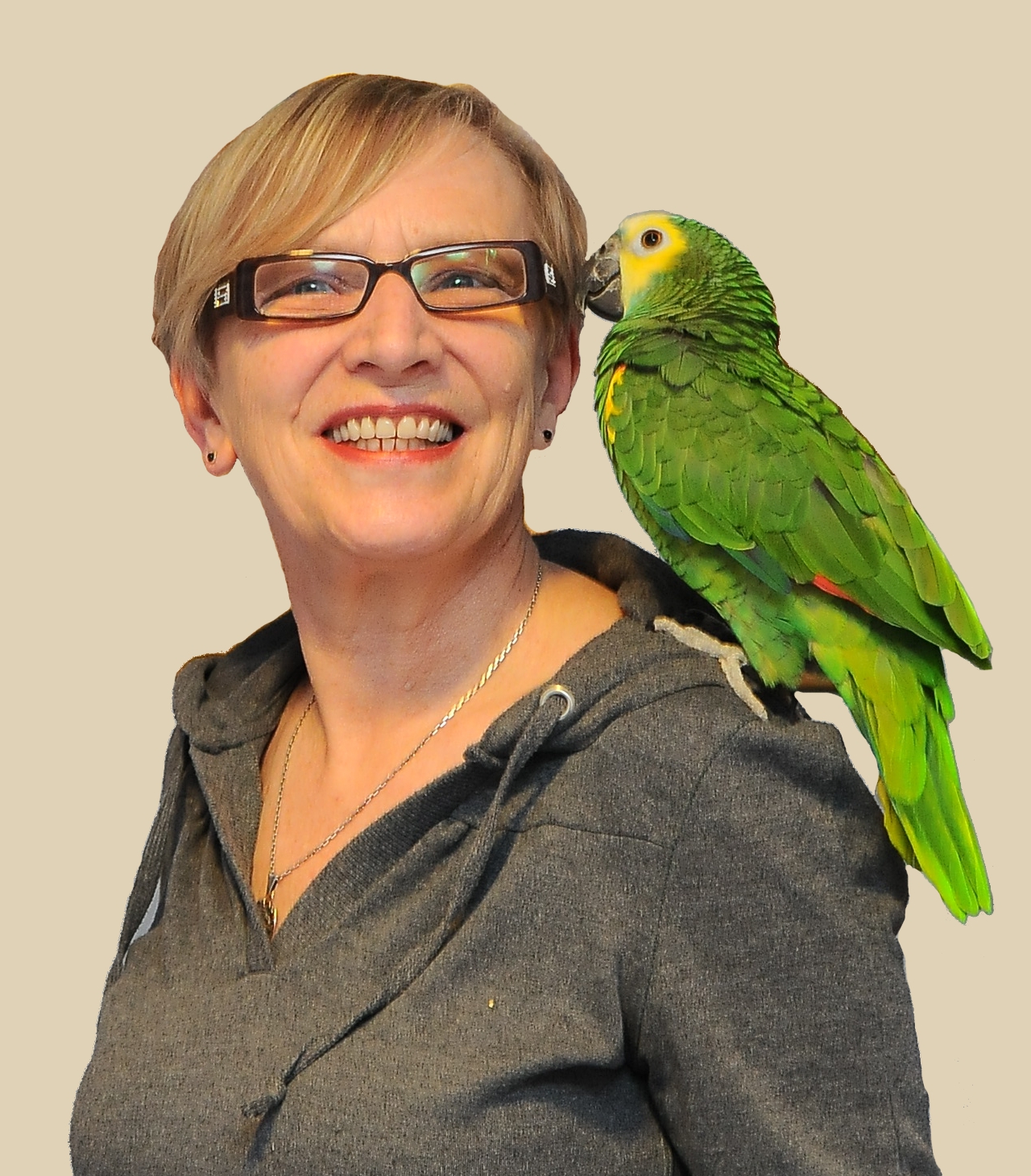 Hanna Hybicka
President of the Polish Society for Exotic Birds Lovers since 2000, propagator of the knowledge on parrots, forerunner of bird therapy in child hospitals, schools, nurseries;
Social activist and volunteer in oncological hospitals. Secretary of the Polish Ostomy Society POLILKO. Involved in the amateur theatre movement. Perfomer of epidodic roles in Polish films and series. Owner of the Blue-fronted Amazon named Kuba - finalist of the 1st and 2nd editions of "Parrot Chat"
(Photo by Grzegorz Szymański)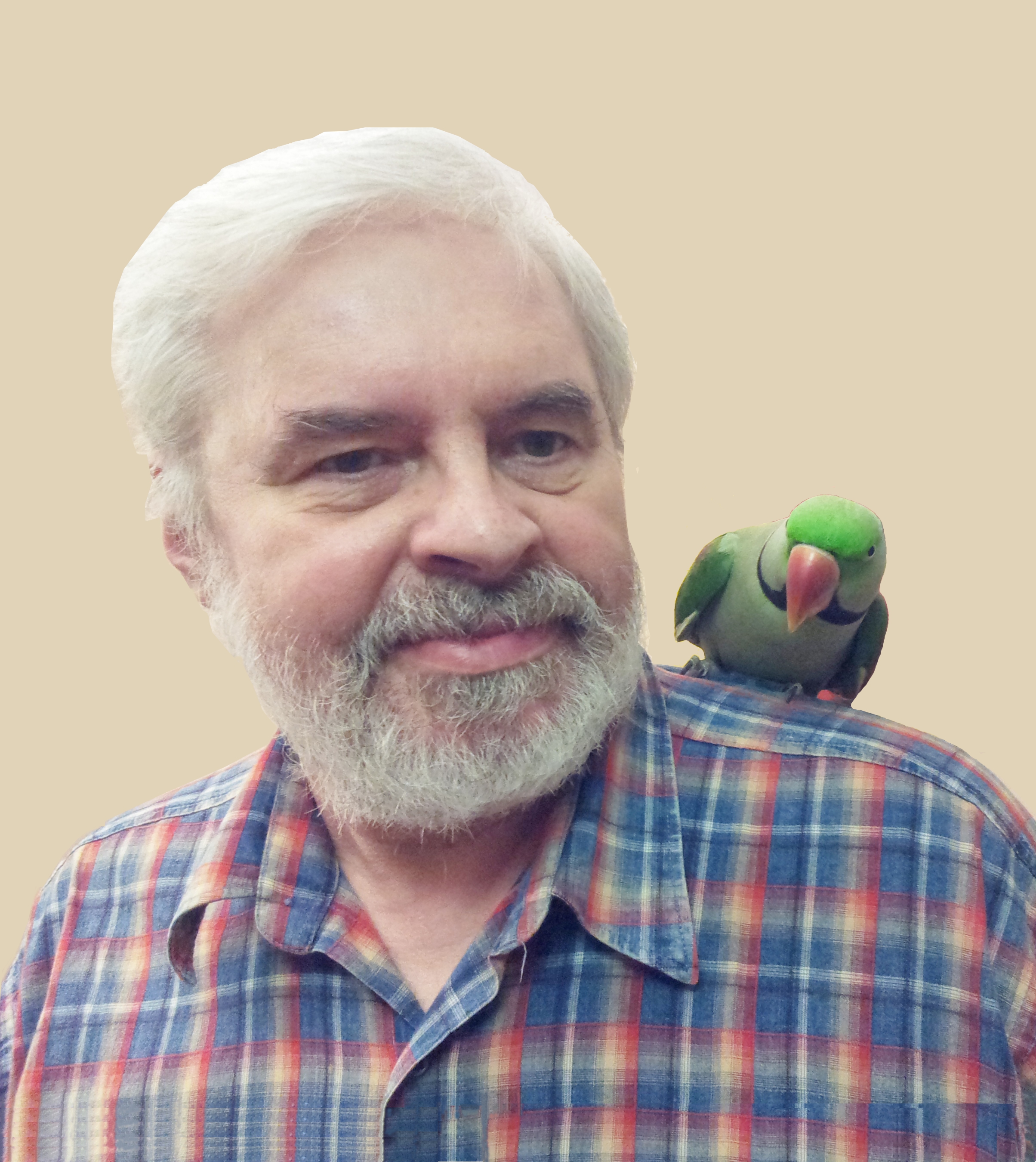 Zbigniew Zaręba
Owner of famous Indian Ring-necked parakeet named Carol - the Vice-Master of Poland of the 2nd Talking Birds Championship "PARROT CHAT" 1999. Carol has become famous by declaiming Polish romantic poetry. Now, Mr. Zaręba is an owner of the Alexandrine parakeet named Arni (a contraction of Arnold), but his interest in birds developed also in the sphere of representatives of our indigenous fauna. That is why he can be met with field glasses when he is watching them in their natural inhabitat. Moreover, he constructs nest boxes and attaches them on trees, and in winter time he fattens birds on birdtables which he also makes by himself.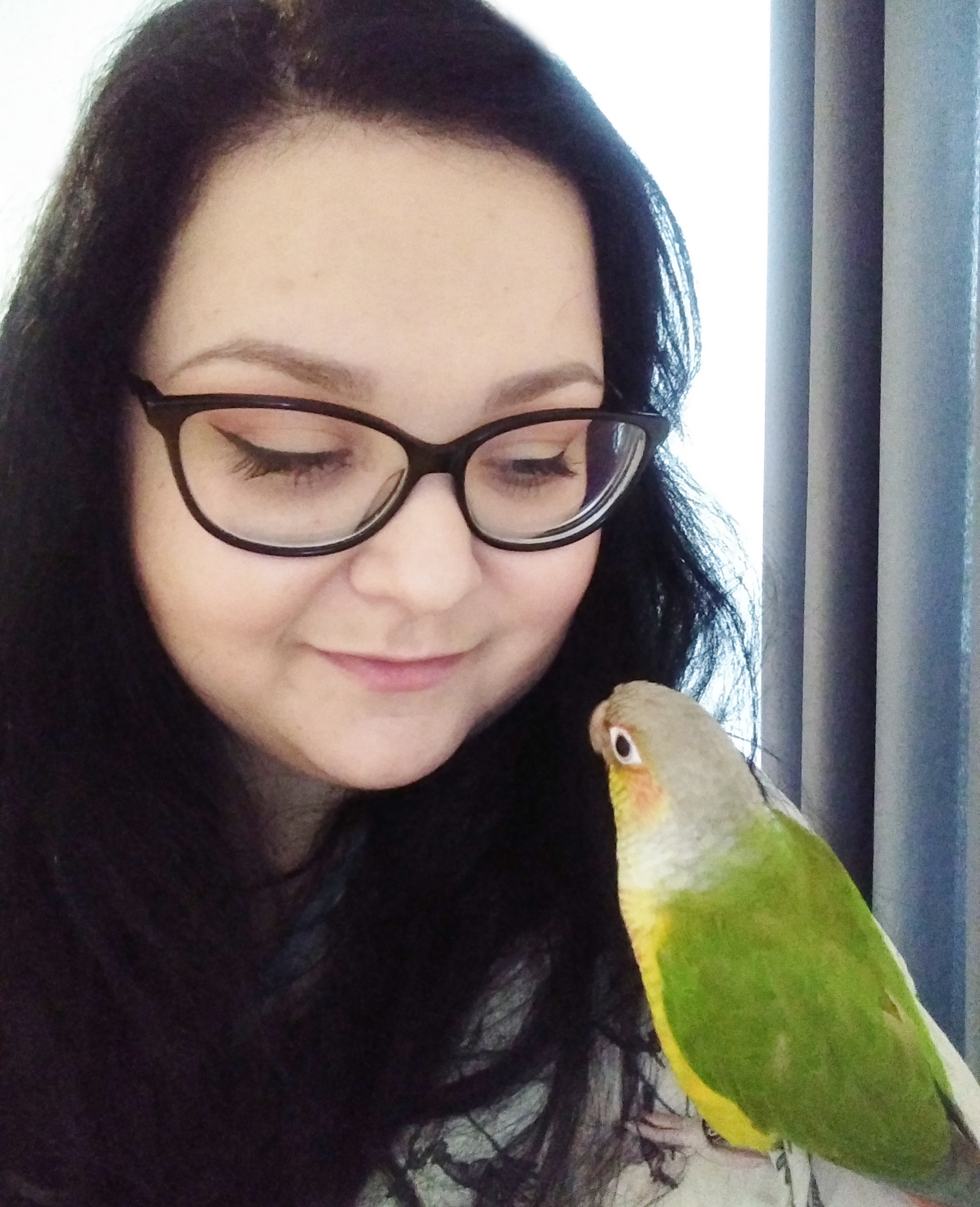 MARTA NURKIEWICZ
----------- Translation coming soon ------------
Wirtuoz windykacji. Jedyną rzeczą, która kruszy jej serce jest miłość do papug, którą zaraził ją tata. Była dumną właścicielką gadającej papużki falistej o dostojnym imieniu Stefan, który to zdobył tytuł Ulubieńca Sponsora w III Mistrzostwach Polski Ptaków Gadających "Papuzie Gadanie" 2015/2016. Obecnie jest właścicielką rudosterki zielonolicej z ADHD o imieniu Ryszard, który dostarcza jej codziennie nowych wyzwań. Próbuje również nauczyć go mówić. W czasie wolnym od pracy wraz ze znajomymi oddaje się przyjemności płynącej z gier komputerowych, w których wytrwale towarzyszy jej Ryszard. Nie odstępuje jej na krok.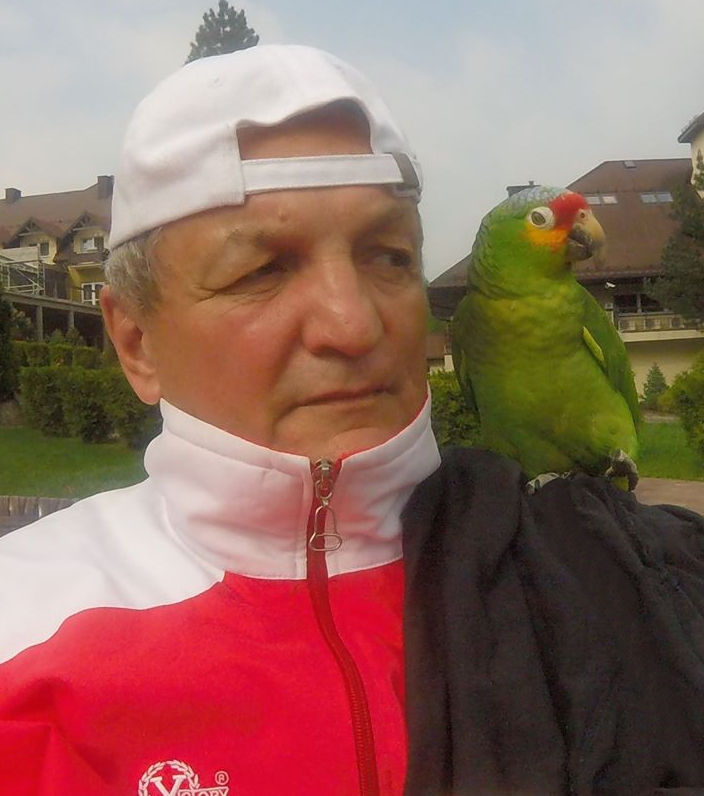 ZBIGNIEW BRZOZOWSKI
---- Translation coming soon ------------
Od 30 lat zajmuje się zawodowo iluzją. Jego pseudonim artystyczny to Brozi, a swój magiczny program nazwał Brozi Magic Show. W programie można zobaczyć m.in. słynny numer Davida Copperfielda z gilotyną. Jako jedyny w Polsce i jeden z ośmiu iluzjonistów na świecie potrafi z zakrytymi oczami wjechać samochodem w tłum. Stosuje też telepatię i teleportację. Ptaki towarzyszą mu w jego pokazach od 25 lat. Początkowo były to gołębie cukrówki, a od 10 lat są to również papużki faliste WPF. W 2014 roku był finalistą siódmej edycji programu Mam Talent. Oczywiście, jego talentem była iluzja. Występował nie tylko w Polsce, ale i w niemal całej Europie. Jednak największą radość sprawiają mu zawsze pokazy charytatywne dla dzieci w hospicjach i szpitalach, kiedy na ich twarzach wyczarowuje uśmiech.
Udziela się też wszędzie tam, gdzie potrzebna jest pomoc, a brak łączności. Jest krótkofalowcem i działa w sztabie łączności kryzysowej. Jego znak to SP3MST.
Zamiłowanie do ptaków sprawiło, że stał się właścicielem amazonki żółtolicej o imieniu Kuki. Ale to już na pewno nie czary, lecz talent Kukiego doprowadziły go do udziału w IV Mistrzostwach Polskich Ptaków Gadających 2017/18. Jego praca wiąże się z licznymi wyjazdami i życiem na walizkach, z czym doskonale radzi sobie Kuki, który towarzyszy mu nie tylko w podróżach, ale również podczas występów. Przebywanie ze sobą praktycznie non stop, wzajemne poznawanie i uczenie się siebie sprawiły, że ich relacje są wyjątkowe. Niezwykłe sytuacje, w których życie ich stawia, bardzo zbliżają ich do siebie. Te dwie "nierozłączki" pokazują ludziom, jak silną więź można zbudować z papugą, a Brozi nie szczędzi wysiłków, aby dzielić się swoim doświadczeniem z innymi właścicielami papug.